The Nike SB Pigeon Dunk is back in black. While Nike SB might not make the same waves it used to, the re-release and new colorway of this Jeff Staple designed sneaker puts it back on the map. 
(Source: Nike)
If you know streetwear, you know this Nike SB Dunk Lo is one of the legendary designs from Nike SB's 'Pink Box' era (2005). If you don't here's a quick run down of the history behind one of the most iconic releases to come out of Nike SB, and early 2000's streetwear culture in general.
(Source: Highsnobiety)
First, you have to start with Jeff Ng, better known as Jeff Staple and his company Staple Design. Staple Design was founded in 1997 as a clothing company, retail store, and design/marketing agency - basically a one stop shop for New York City streetwear.
After racking up a number of design and collaboration projects, Staple linked up with Nike's SB line for a Dunk Lo. Staple's 'Pigeon' design was an homage to the only thing more ubiquitous to the NYC landscape than tall buildings - pigeons.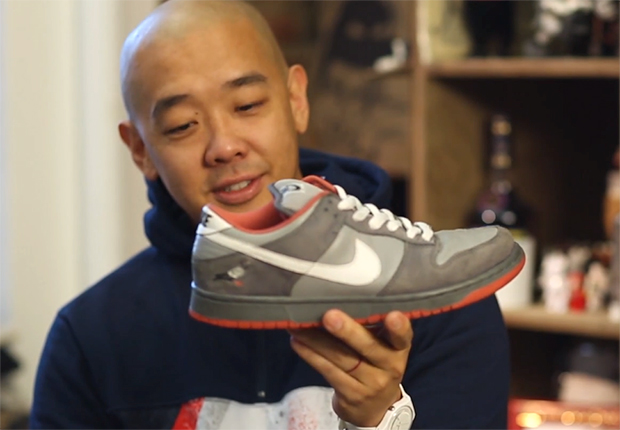 (Source: Sneakernews)
The Dunk featured a pigeon-inspired colorway with a few extra nods to the infamous bird, including a pigeon embroidered on the back heel tab. When the collab was announced, people showed up to stores two to three days ahead time to camp out. 
Having a core group of buyers led to a different market place for sneakers than there is now. A camp out for a pair of sneakers was still basically unheard of, so the fact that people were actually rioting (or nearly rioting) was shocking. Of course, this far more common now, but at the time, it was telling moment for how heavy the hype for a pair of sneakers had gotten. The madness even made the papers the next day.
At the time, Nike SB was still an in-the-know line, with mass market distribution years in the making. The SB line was putting out a number of collaborations with some of streetwear's biggest names including Stussy and Supreme. Imagine how that would go over in 2017?
If you copped a pair or make your own Pigeon-inspired Dunks, grab a pair of our SB Dunk Shoe Laces.
---